In Memory
Barney Giles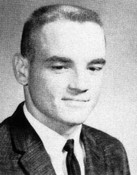 Born: December 3, 1943
Died: September 23, 1998
Funeral services for Barney L. Giles of Dallas were held at 10:30 a.m. Friday, Sept. 25, 1998, at the Church of the Incarnation Episcopal Church, 3966 McKinney Ave., in Dallas with the Rev.Fredrick Philputt officiating. The coaches and training staff of the 1963-1966 University of Texas Longhorn football team served as honorary pallbearers. Private family interment followed in Hillcrest Memorial Park.
Mr. Giles, a 1962 graduate of Marshall High School, attended the University of Texas on a football scholarship, graduating in 1967. He was captain of the 1966 Longhorn team and lettered for three years. He also played on the 1963 College Football National Championship Team under Coach Darrell Royal. Barney served for many years on the Texas Longhorn Foundation and was a coach and longtime supporter of the Park Cities YMCA. He served on the Highland Park Sports Club Board for four years and was President in 1988. He was active in supporting Highland Park athletics for more than 20 years.
After working with Xerox Corp. in the early 1970's Barney joined Hank Dickerson & Co., where he was a leading salesman for more than six years. In 1977 he was one of the founders of Duval-Giles Co., a commercial real estate brokerage firm. For more than 10 years he was a partner at Lincoln Property Co., where he built more than 5 million square feet if industrial space. Mr. Giles was active in NAIOP and, later, NTCAR. For the past five years he was a principal in Venture Realty Advisors. He was a member of he Church of the Incarnation, where he served on the vestry.
Mr. Giles was preceded in death by his parents, Mr. and Mrs. Morris Neal Davidson, and infant daughter Rebecca Elizabeth Giles. He is survived by his wife, Deborah Harkins Giles; his children, John Harkins Giles, Jason Lewis Giles, Robert Bradley Giles and Jennifer Leigh Giles; a brother and sister-in-law, Larry and Deanie Davidson; a brother-in-law and sister-in-law, Earl and Mary Ann Harkins; his nephews, Bob Harkins and Jason Davidson; and a niece, Kellye Harkins Hawes.
In lieu of flowers, memorials may be made to the Longhorn Legacy - Barney L. Giles Football Endowment, P.O. Box 7399, Austin, TX 78713-7399. or the Church of the Incarnation, 3966 McKinney Ave., Dallas, TX 75204.