50 Year Reunion
The 50 year reunion has come and gone and was a rousing success and a good time was had by all.
Our thanks for such a fun weekend get-together goes out to the members of the reunion committee: Dolores Carrington Newell, Anita Pace Quinn, Shirley Munden Ford, Treasurer, Brenda Simpson Gatlin, Sandra Jo Blackburn Bledsoe, Bailey Moseley, Elias Bryar, Terry Holley, and committee chair Kay Moseley.
The booklet coordinator was Jim Hawk, the nametag coordinator was Diana Clark Driver, the decorating committee for the Friday night event was: Narcie Moore Crosby and husband, Tony, Narcissa Moore Chappell and husband, Hap, and Melissa Wall Taylor and husband, Monty; the decorating committee for the Saturday night event was: Sam and Kay Moseley, Anita and Tom Quinn, Terry Holley and Joke Bertram, Dolores Carrington Newell, Nita Goolsbee Beane and Jerry and Judy Cargill.
And, a very special THANK YOU goes out to Jerry and Judy Cargill for the Champaign and chocolate mixer that they hosted in their store before the main event began and for providing such a great venue for the Saturday night event.
All the rest of the class are most appreciative for all the time, work and effort these classmates spent on our behalf in order to make the event one of the best ever for the class of '62.
Attendance figures from Kay Moseley indicate that we had 96 graduates, 8 former classmates, 59 guests/spouses and 13 paid no-shows at the reunion, as near as could be reckoned.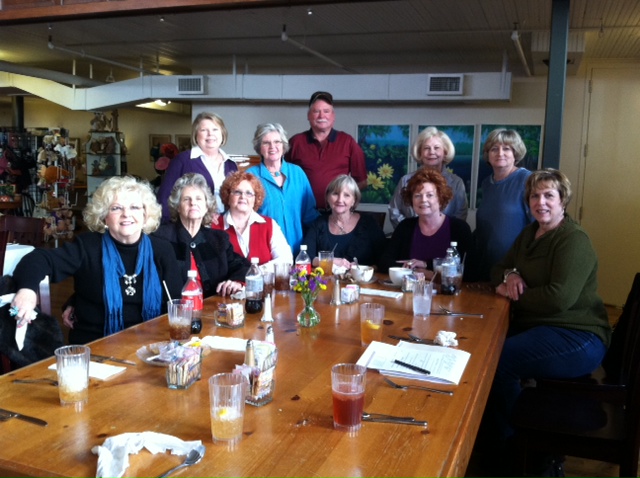 Preparations are being made for the 2012 reunion by L-R Seated: Sandra K. Thomason, Johnette Loyd, Brenda Simpson, Angela Bailey, Jane Faust, Anita Pace and Standing: Shirley Frobese, Kay S. Blackmon, Terry Holley, Shirley Munden, Dolores Carrington.
With a little luck, this link will take you to some photos of the 50 year reunion of the class of 1962. You may recognize some of the old people in these pictures. You really can't imagine what it is like to see your 19-year-old friends in 68-year-old bodies, unless you have lived it.

http://easttexastowns.com/siteMOL/RArticleViewerSG.cfm?ident=6357

There is a place where you can "click" to see all the pictures as a slide show instead of having to click each one separately. If you pick the 3-second or 6-second viewing time that will probably be about right.
(Pictures from Ronnie Munden)

The photos below were from Sam Moseley, Linda Chance and Carol Bohannon Martin at the reunion and are also in the Photo Gallery with credits as to who took the pix. (I haven't been able to figure out the editing portion of this link-bear with me and I will keep working on it)